TIME'S FOOL

Doubleday. 1981. ISBN 0-385-15288-4.
Flap copy: Garcia's dream has become reality and now, as the acknowledged master of the complex combination called the autar--part sitar, part guitar, part computer--he has won fame and riches, love and admiration. But Shaara Muenstretiger's jeer still rankles: "tasteless and overblown" was what she'd said about the world he has created with the artistry of his gifted fingers. Confused by the hollowness he feels, he looks for guidance. His trusted mentor, Bwire, advises him to extend beyond himself and sends him, over Garcia's protest, a student whose training will take the autar master's mind off himself. But the awkward Jorme, a young man unlike Garcia in every way, wins him over; initial hostility gives way to affection and respect. Moreover, Garcia's relationship with Shaara has gone from mockery to love. Inspired again and busy with his music, he postpones the operation that will make him immortal and, before he can proceed, death's tragic intervention strips away the last of his illusions and makes him understand that, for him, immortality exists only in the memories evoked by the timeless, emotion-laden melodies of his autar.

TIME'S FOOL takes place in the same universe (which I call The Chewing Gum and Rubber Band Universe, because that's about all that holds it together) as a number of my short stories, notably "Stella Blue" (where Garcia first appears), "Annapolis Town" (which precedes "Stella Blue"), and "What Will You Do When You See Your Lady Walking on the Deck of the Starship?" (in which a minor character in TIME'S FOOL is a major character), as well as "His Hour Upon the Stage" and "A Simple Twist of Fate."
I began the book, originally titled THE EDGE OF THE WINE, in 1976 or 1977, sold it to Pat LoBrutto at Doubleday probably in 1978, and finished it in 1979 or early 1980. I delivered it well before deadline.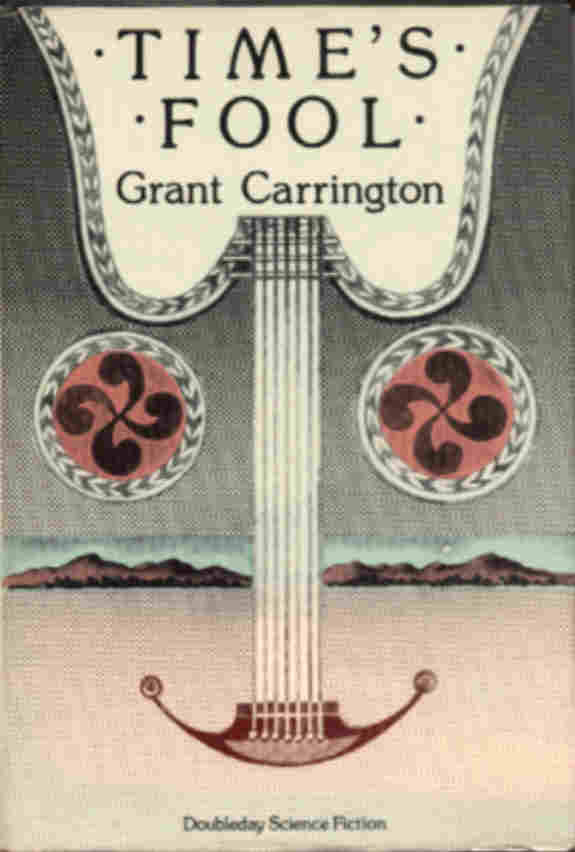 Waves of conversation crested on Garcia's ears, like the somnolent disharmonies of Vlatko's "Modular" Symphony, as the autarist moved through the party. He stopped to flirt briefly with a young synthesist who wore one of Amiloun's programmable gowns. This one writhed about the young synthesist's body slowly, changing colors and iridescing, revealing and concealing, its movements programmed to display its host's finest features to their best advantage.
Justin Mead gestured to Garcia from the other side of the room and Garcia moved over to his side. Justin's knotted and gnarled hand carried the flute that he played so beautifully. "How about a duet?"
"Certainly." Garcia picked up the guitar nearby. For a few moments the two friends weaved melodies and harmonies, Garcia dropping into straight rhythm while Justin's flute swooped and soared, spreading crystalline notes through the party, then Justin played low throaty soft warbles while Garcia plucked arpeggios, triplets, and two- and three-note chords from his instrument.
When they were done, the people clustered around them applauded. Justin looked at Garcia. "Your choice," he said.
Garcia held up his hand. "Not right now. Maybe later."