Maryland
10/10-10/17/2015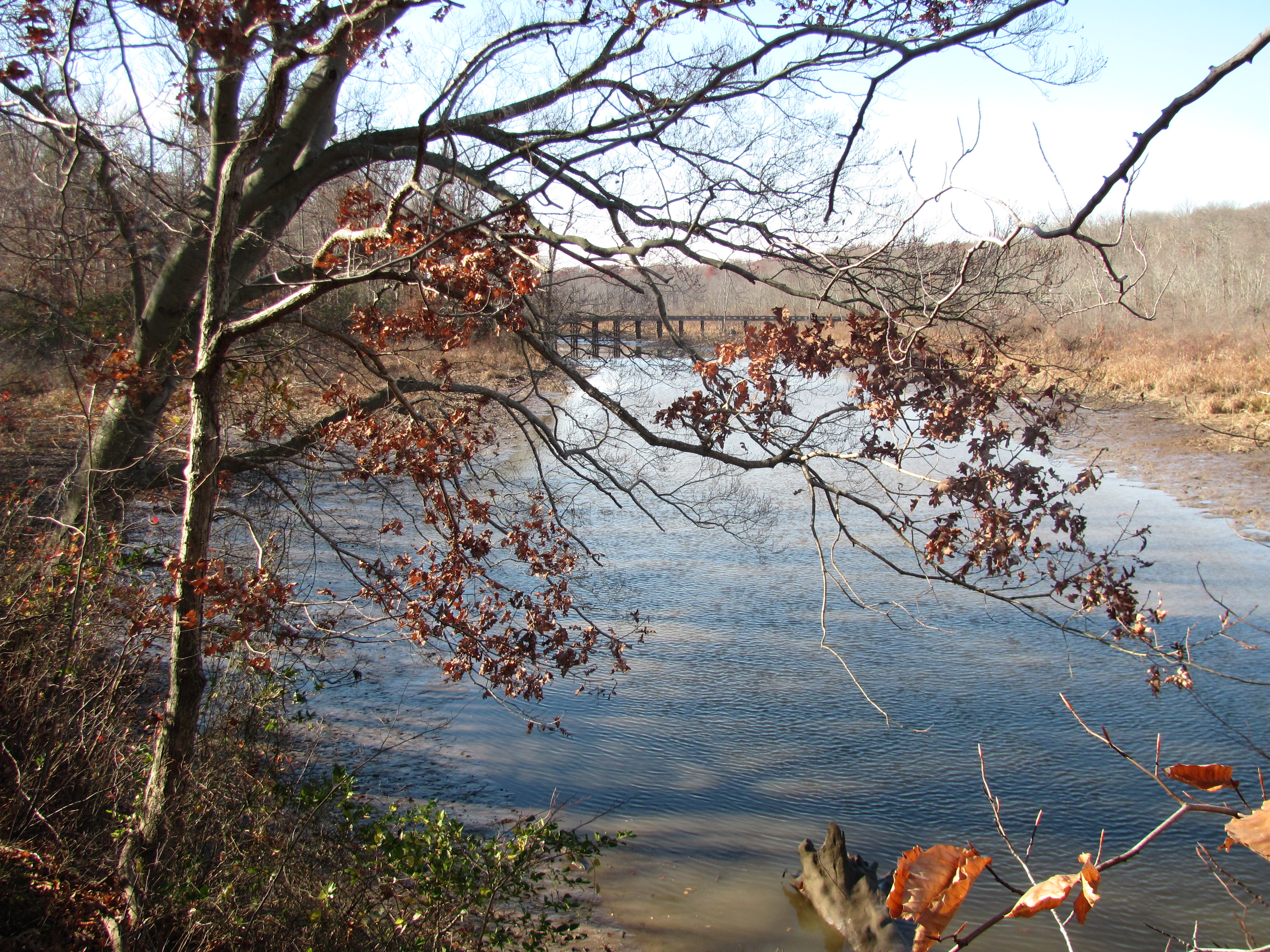 Saturday, October 10
Pa/Md state line to Laurel, Md.

Unable to find a motel in Pennsylvania, I came down I-83 (?) into Maryland, stopped at an Exxon on Mt. Carmel Road north of Baltimore for $30 worth of $2.299 gas, where I learned there are no motels on York Road before Cockeysville so I decide to find the Scottish Inn on Reisterstown Road west of Baltimore. Things start out good--the motel is at 5810 and I numbers are in the 2700s going up but then suddenly they're in the 9000s! I give up still once again, turn around and head for Route 1 from Baltimore to Laurel, some place at least I know fairly well. 4-5 motels near Montgomery Road are selling rooms by the hour. I'm in Sleaze Alley. The Super 8, Red Roof Inn, the Sleep Inn are all sold out. No rooms available. It turns out I have decided to come down on the anniversary of the Million Man March of Washington. I wind up at the Tastee Diner, one of my regular hangouts for 20 years, where Joe is still manning the cash register on the graveyard shift. We talk a bit and I get my laptop out and start working. It is pretty empty, just Joe, the waitress, and the cook--all the bars have been shut down, license revoked for serving minors and dealing drugs. We talk a bit and I get my laptop out and start working. Had some scrambled eggs and an English muffin and a lot of coffee. A noisy group of about 8 comes in around 2:15.

Sunday, October 11
Laurel to Baltimore

On the road again at 6:48, temp 47, for lack of anything else to do, the predawn sky lightening, Venus high and bright in the morning sky. I tried to get prescription refill at CVS but CVS Caremark won't be open till Monday, despite what they had told me on the phone a couple of days ago, which probably means not until Tuesday because Monday is Veterans Day. Then I had 10 copies of 2 songs made for the song critique session of the Baltimore Songwriters Association Monday night, and finally decided to try to find a motel up in Baltimore but stopped off at Frank's Diner for biscuits and gravy and a glass of milk then couldn't find the mouse for my laptop, so I went back to the Tastee Diner but it wasn't there, so I checked my laptop bag again and finally found it. More time and gas wasted. Up I-95 to discover there's a football game today, so I took the Beltway to Edmonston Road to US 40 through Baltimore to US 40E, where I finally got a room at the Regal Inn (small room, drafty door, smelling of cigarettes, does have a fridge, desk, not much storage space--it'll do for tonight). I tried to get some sleep and dozed off for maybe an hour or so. Bed around 10:30.

Monday, October 12
Baltimore to Jessup

Up at 8:00, having trouble turning off the cell phone alarm. Weight 149.6. Temp 54. Leaving the motel at 9:00. Another clear blue sky day. Whenever I leave a motel, I always take one last look around the room, a bit of panic, wondering I'm leaving something behind. Up 40N. Odometer 06420.
As I drove up 40, I had a Sudden memory of when I started at GSFC and I-95 didn't exist so I'd drive US 40 from the the Chesapeake Bay Bridge at the bottom of the Jersey Turnpike to Baltimore. Once I called home from the road and the pay phone had no dial. I had to place a phone call with an operator, the only time I've ever done that. (I had done long distance calls with operators but this was a local operator probably at a local patch board, the original way phone companies operated.
9:08. I stopped at Silver Moon Diner on Pulaski Highway for a cheese, onion, & pepper omelet, coffee, water, toast, strawberry jam. $10.50+$1.35 tip. The Silver Moon doesn't look like much from the outside, it has seen much better days, but inside it's clean and shiny and bright, like your standard Greek diner.
I then took I-95 N then went back south on Route 7, but there was no parking at Gunpowder Falls so I turned around and took Jones Road, a narrow road with sharp turns through a country area across to 40. Another waste of time.
I got on the Baltimore Beltway to Route 1 north to Gunpowder State Park at 10:41, temp 61. I couldn't find any of my 3 caps, so I didn't get on the trail until 10:55. Although there were a lot of cars in the parking lot, it was a while before I encountered any people on the path. As I walked along the river, I heard blue jays, chickadees, and red-bellied woodpeckers and saw a gray squirrel and 3 nuthatches together climbing trees and making their little nuthatch sounds.. The first people I met were a man and his young son, 8-10 years, then woman jogging, a woman with a dog, all going the other way. My walk on that side of the river ended at a stream that was too difficult to ford, where I had a slow motion fall, bruising my hipbone a little) so I took a side trail that was a loop back to the original trail. A dog splashing around in the water on the other side of the river. I got back to the parking and crossed over to the other side, planning to where I found a rusting old Plymouth years ago. But I turned around at 11:55, without making it that far and got back to the car at 1:38, my legs not too upset, so maybe I could have made it after all.
At 1:51, 72 degrees, I stopped at the Double T diner at US1 and Joppa Road, to work on my laptop. I had a Danish and iced tea ($7.20, including tip) and left at 3:41, the temp 83. Down US 1 to Route 43 to I-95 to the Beltway to US 40, past the Happy Day Diner to The Bloc, where. parking was 75 cents for 23 minutes. After stepping into one bar, ladies in underwear, I was out of The Block 10 minutes later, taking Baltimore Street to Broadway and Fells Point. Jimmy's closed at 4, (it was now 5); theWhistling Oyster is now The Rye with all kinds of fancy beers. Restaurant up the block past Max's on Broadway is gone, but the Green Turtle, Bertha's of course, and the Vagabond Theatre are still there. Parking is worse than ever, so I wonder how the Vags can get actors and crew down for plays. The old Fells Point Theater is now Adela's Tapas Bar (paging Burrie Jenkins). The Mission is gone, along with its winos. But a couple of blocks back up Broadway, little has changed. I take Eastern Avenue to Highlandtown, past income tax electronic filing, a locksmith, the law offices of Edward J. Makowski, a boarded up convenience store (but apparently open), Michele's Cafe, Tochterman Taco, Quiero Practico, a funeral home, Goodmart, Signarama, the Patterson Bowling Center, Rad's Pizzerias. Sharkey's Bar&Grille is still across the street from Patterson Park.
Highlandtown. 5:17. I can't find the cheap restaurant I was looking for so I headed back to the Silver Moon Diner at 6:31, where I had French dip, which I couldn't finish, too much, $12.62 $1.70 tip, iced tea, fries, coleslaw, pickle.
I reach the old Patterson Theatre for the Baltimore Songwriters Association song critique. I got there at 7:00 and no one was there, the whole place closed up on Veterans Day. I was about to leave when Martin, a garrulous old cab driver now in wheel chair showed then Roman, who kept trying to explain music theory to me all night long, until Ken showed up and opened up the back door. A little later, Jackie, a young black lady, showed up and that was it. I did An Anonymous Alba, Martin did a song he had written for 14 year old girls, Jackie a religious song, and Ken one about what the person in the song had learned from a dog.
I took I-95 to the Super 8 on Route 1 at 11:15. Fridge, microwave, one table nowhere near a plug, a low dresser, a double bed with 2 side tables, a sink outside the bathroom. I got to bed at about 12.

Tuesday, October 13
Jessup to Laurel, prescriptions, AMW

Up at 8:23 on a gray day. Left the motel at 9:18, temp 60. I went to Rising Sun Motors, talked to Mike and the 2 guys working the counter and made a Thursday appointment for a lube & oil and to get the back panel worked on, made an appointment with my lawyer Thursday afternoon. Back up to Laurel, where I finally got 2 prescriptions filled after having coffee at the Tastee Diner. Checked into the Motel 6 (no free wifi) at 12:05, then had BBQ pork and iced tea at the diner before heading to pick up the Metro at Greenbelt. It was another clear blue sky day, a few tiny clouds. As I went past the exit for Goddard Space Flight Center on the Baltimore-Washington Parkway, I felt a pang and tears came to my eyes. I wanted to go in and see the old gang, Bob Danek, Jim Weld, Lou Thomas, Balakirsky, Fred King. Like me, none of them are there any more, but I'd like to go back and do it all over again.
I parked at the Metro parking lot and took the Metro to Dupont Circle, getting there at 2:04. Walking up 18th Street to Dupont Circle, I heard the first mockingbird I've heard on this trip. It was warm and I had a heavy shirt on, very uncomfortable. I meant to change into a short-sleeved short at the Motel 6 but forgot. There's a big old red brick building at the corner of 20th and P. It was probably there when I lived in the area but I don't remember it. Second Story Books is still there but the Parma House and the Nanking is gone. Hopkins Street, where I lived for an incredible 2 1/2 years, is basically unchanged although one of the houses is painted a light green and there's a blue weird kind of sculpture, like a kinetic mobile but planted in the ground. 1416 (my last address there) now has two doors, so they don't have to go through Sue Simpson's apartment to get to those on the upper floors, 4 mailboxes. The old iron steps are still there but the lions are gone.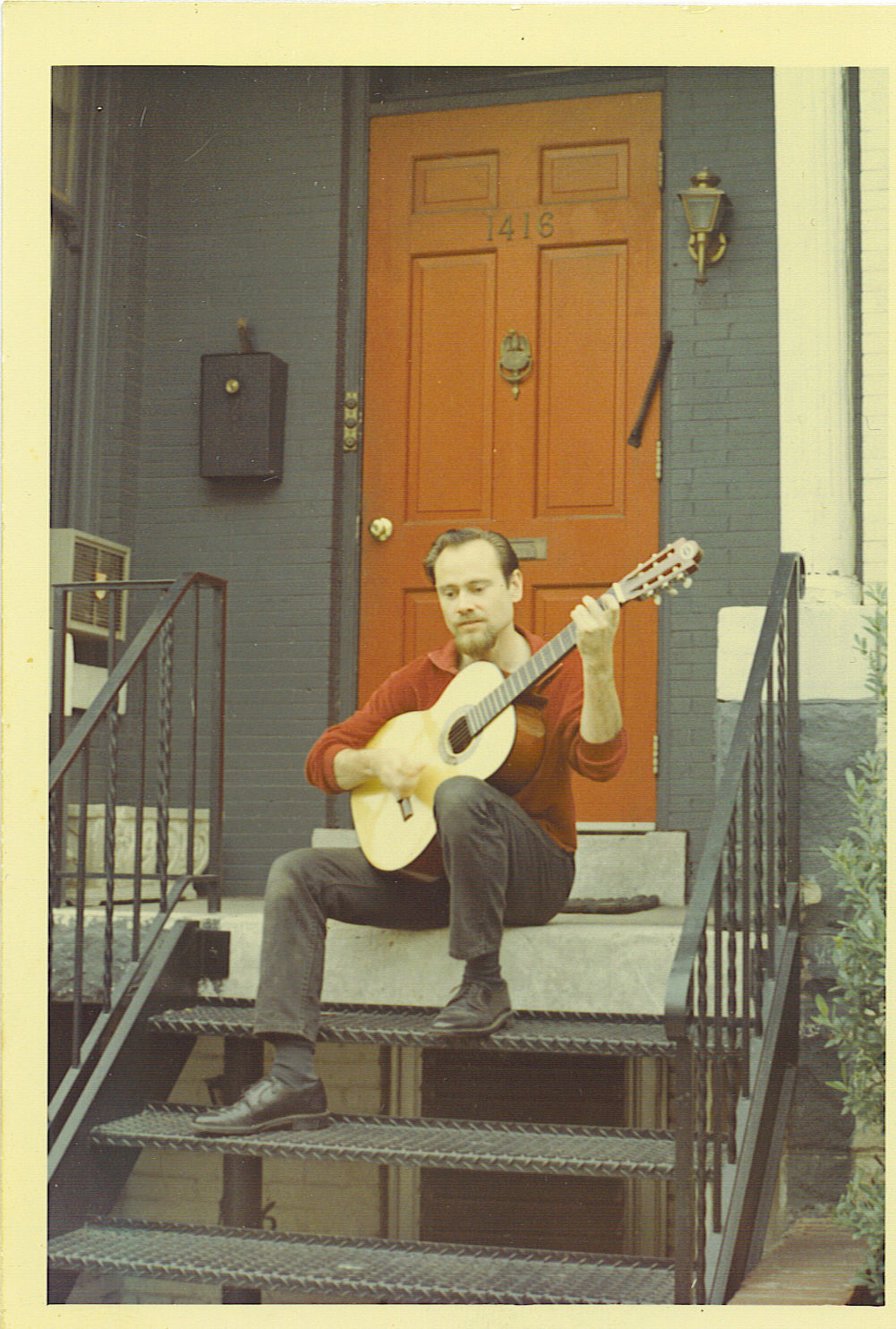 GC on the steps on 1416 Hopkins, 1967

1409 (my second address) seems unchanged, 4 floors, but there's a garage next door where there had been a courtyard. There are a couple of old brick buildings on each corner of O and Hopkins that I don't remember. The old transient hotel is now apparently apartments. 2021 O Street (my first address) looks good, white painted brick, stairs going up in stages, up, turn left, up, turn right, up to the door. There are huge windows that I don't remember, 3 floors and an attic. The Bland, a 4-story light yellow brick, very bland building, is maybe where my brother Wayne lived for a while. Down the alley, there are big porches on 3 buildings on my left, three garages to my right, including the one at 1416. Oasis Grocery is probably where the bookstore where the Mass Transit poetry readings were held was. Hartnett Hall, which rented out 2 of my apartments, is now apartments, The Fairfax, the greasy spoon in the basement of Hartnett Hall, is now Scion, a fancy sidewalk restaurant.
Up 21st Street to The Phillips, "America's first Museum of Modern Art," where the permanent collection, quite huge, is free. The Klee room is gone and Klees are scattered around, losing their impact. I couldn't find Ryder's tiny still life of a dead canary. "Figure in a Field," the Bacon I love so much, is still in storage. Where it had been in the 60s, at the base of a short few steps down before turning left, is Marjorie Phillips's large baseball painting. But, as I head toward it, for a few seconds I can see the Bacon there, waiting for me. As I left The Phillips, I waved a kiss to the last Klee before I left, and my eyes misted over again.
I walked down 20th back to L Street, surprised to find the post office replaced by a large building, all glass wall, kind of ugly. And the Camelot, an old strip club, is still there among all those fancy yuppie businesses that have replaced the ones that were there 40 years ago. I talk to Ryan Fleming at AFW, my financial managers, while one of his assistants straightens out all the information on my accounts.
At 4:15, in a light rain, I head back to the Metro, getting to Greenbelt at 5:05, it now being partially cloudy, a big fluffy cumulus cloud to the northeast, but it's clear overhead and the sun is shining. I have trouble at the way out--there's no one in the booth and it only accepts credit cards and my credit cards are in the trunk. I manage to back out, open my trunk, get my cards out, get back in line, then the machine won't take my first card so I have to dig into my pocket for second one. I finally get back to Motel 6, where my AARP card gives me free wifi.
Nachos and iced tea at Denny's. Bed at 11:30.

Wednesday, October 14
Laurel, TDFCU, Rising Sun, Ray Tilkens

Up at 7:50 and on the road at 8:34, 58 degrees. Got $29 of BP gas at $2.179 then it was down Brock Bridge Road to Route 197 to Contee Road to Route 1, gas for $2.159 at the corner of 197 and Contee. It was a blue sky day with some clouds, cumulus and tiny little cumulus-type clouds. There was a line of traffic on the connector from Route 1 to University Boulevard, I don't know why. Down Adelphi Road to park at the PG Plaza and walk over to the Financial Management Service, where I worked for 17 years. The main entrance is now on the side. It was more wasted time. The credit union could not help clear up my problems trying to get past security to see my credit union account--I have to do it on line and over the phone.
When I got to my car, I noticed my right front tire was soft, so I went back to Rising Sun Motors. They said there were two leaks and the tire could not be repaired but they put in two plugs so I could drive till they get the tire. Also said I might also replace the left front. $390. They did the lube & oil and worked on my rear panel. I was out at 11:10, driving past the Shen Yang restaurant on Rhode Island Avenue, where I ate several times when I lived in the area. There were lots of clouds in the sky now though the sun is still shining.
I had chipped beef on toast at the Tastee Dinner at 11:37, spent a little time at the motel, then drove to Ray Tilkens's studio, stopping at the post office for 3 post card stamps. $1.05. I can remember when 1st class postage stamps were less than that. Of course, like just about everybody else, including little kids, I can remember a lot of things that are no longer true.
I got to Ray's at 2 and recorded 6 songs. $100. I met him again at Denny's at 6:00, for a philly steak sandwich (pretty good), mac'n'cheese (edible), 2 iced teas, and pecan pie. We talked till 8:33, and I returned to the motel.


Thursday, October 15
Laurel, Rising Sun, lawyer, New Deal Cafe
On the road at 7:13, temp 48, another blue sky day, taking Brock Bridge Road to 197 to Muirkirk through the Agricultural Center to Edmondson Road across to Rhode Island Avenue to Rising Sun Motors to get my new tires.
When they pulled off the tires, they discovered I needed brake work so, instead of being there an hour or so, I was there nearly 5 hours. Breakfast was a Danish from the 7-11 across the street. I had expected a bill of about $500; instead it was $949.98.
Then it was back up the Baltimore-Washington Parkway to Laurel, a few small clouds, bigger pieces of cotton to my left, to the north, to pick up Mr. Gimmel's address, back down the BW parkway, the Beltway from northeast Maryland to southeast Maryland, and up I-270 to Route 355 in Gaithersburg. Then I tried to find some food, finally finding a Jerry's for birch beer and a Jerry's small pizza with anchovies.
I got to Mr. Gimmel's office at 3:10, leaving at 4:16, the temp 71, $800 poorer for updating my will. Took 355 to Brink Road, a country road with very large new houses, an old one with gables a distance back from the road, mostly meadows and open country and trees. Welcome to Laytonsville. Older houses after a stretch of new ones, a brick house, 20-30 years old, an old church off to my eft at Route 108, another old house with a red roof, an old white house with a long chimney on the side, something on top of the roof, leafy things holding up at ball (a concrete soccer ball on a bed of concrete leaves left by a gargoyle?), and an old-fashioned porch with a rail. More new houses after 108 then country, more brown corn, a flat field of stubble. Very nice rolling country along Sundown Road, fields, reasonably old houses (not all of them), a picket fence and driveway with a gate, trees mostly green, a few turning a very dark red, 50 mph, 2 cars ahead of me, 3 behind, horse country, lots of wood fences. A handful of clouds. I went through a magic tunnel of trees, the road dark from shadows and the shade with little bits of sun. Damascus Road. An old brick house painted white, a small red shed after a field of corn stubble, half cut down, Route 650 south (New Hampshire Avenue), a line of traffic, 30-40 cars, going the other way. Brighton Dam Road, St. Luke's Episcopal Church, quite small. Firethorne Lane, Linkthorne or Linkythorne, Mink Hollow. Back to the motel at 5:09.
The sky was totally clear as I headed for the New Deal at 6:23. The BW Parkway was backed up, stop&go, so I got off at 197, took Muirkirk to the Agricultural Center, got back on the parkway, still slow but moving. Made Greenbelt at 6:48, a thin silver of moon in the sky. The open mike was run by Joe Harris, a really nice guy whom I was on pretty good terms with years ago. The first two performers were kids in their 20s, one of whom apparently thought shouting meant singing. Then a harmonica player who played to recorded music. A one-man band was obnoxious--he kept talking about himself, his performance mediocre but full of energy, which several people enjoyed. A keyboard player had a pretty good voice but kept reaching for notes he couldn't reach. Joe and his wife preceded me then I did "This Old Van," "That's The Bag I'm In," and "All Night Diner." I waited a couple of performers then left at 9:23, the temp 63 but it felt colder.

Joe Harris

I stopped off at the Tastee Diner at 9:45 for BBQ and coffee. The temp was down to 52. Back to the motel before 10:45. Bed at 12.

Friday, October 16
Laurel

Well, when I finally get a day without running around doing errands, I am bored. No one to see, nothing to do. Guess nothing satisfies me. I look forward to going back on the road tomorrow.
Got up at 8:10, paid for one more day here at the Motel 6, then worked on stuff in my room, making phone calls, most of them unanswered. Talked to Luther Jett and Sunil Freeman. When the cleaning ladies came by, I went to the Tastee Diner at 10:40 for a waffle ($9.99), waited on by Patty, then to Best Buy but they didn't have a cord so that I record off my digital recorder into my Apple so I came back, past the Amish market, did some more computer work and now (3:53) I don't know what to do with myself.
4:40. On the road to Frank's Diner. Past the race track to US1, busy with rush hour traffic. Only a few cars in Frank's parking lot. Blue sky with small clouds. Turkey dinner with stuffing, mashed potatoes, turkey gravy, mixed vegetables, small salad, cranberry sauce, garlic toast. Later I had a bagel and cream cheese at the Tastee Diner.

Saturday, October 17
Laurel to DC/Virginia line

Up at 9, left the motel at 9:57, temp 59, got $17.00 worth of $2.149 gas, 6800 miles even on the odometer, big cumulus to the west and smaller cumulus scattered across the sky, and then headed to Sarah's, down the BW Parkway (lots of trees, not very urban seeming) to NY Avenue (US 50 and US 1) into DC--a Days Inn with sign under it in Oriental script, gas at $2.399, couple of big weird structures on either side of the road, thin strips of metal with open space, just before Florida Avenue. NY Avenue now lined with refurbished homes nearly 50 years after the DC riots, much tonier. I-395 (the Dwight D. Eisenhower Freeway), across the Potomac into Virginia at 10:46.
---