ILLINOIS INDIANA OHIO
March 25-27, 2016
Friday, March 25
1986: I went to the Open House at the Space Institute at Johns Hopkins, where I was not interviewed.
The Illinois line to the Indiana line

Into Illinois at 10:33. $1.90 toll in Illinois, speed limit 70, quite a line heading north, flat land again, ice gone from the trees, some cirrus clouds to the south, clear blue to the east, green grass, the Kishwaukee River. About 50 power windmills, a couple turning perceptibly, the others turning very very slowly. Still a lot of snow on the fields and ground as I approach Mendota and Earlville;, on the ground it looks like they're growing cotton here, temp up to 39, then it's goodbye snow. Over the Illinois River at 11:54, temp now 43, little cotton puffs of cumulus in the sky now, almost clear blue to the east, accumulating in the south and west.
Illinois Route 18 after crossing a railroad line at 12:05, temp 44. Cumulus getting bigger. An old church out here in the middle of nowhere, the steeple reaching for the sky, Baptist Camp, totally flat, ground brown on either side, storage silos, a big old metal shed, a longer one, very wide with 12 loading gates, a shallow V roof.
Streator at 12:17, cemetery off to my left, $23.00 worth of $1.999 gas at the Circle K, some stuff at the Dollar General, and a $300 cash advance on a credit card at a bank. Out of Streator at 12:50.
Illinois Route 17 east at 1:01, sky still full of small cumulus, nothing really big. Another church with a nice spire, looks like it's up for sale. Took I-55 south by mistake and had to turn around at the next exit, some distance away, and go back to Illinois 17, and I got immediately into Dwight (pop 43). Flat on and on and on, plowed fields, the road goes more or less straight with some kind of a kink every once in a while, pretty uninteresting country. Pulled over to rest my eyes from 1:59 to 2:04. Into Kankakee, Spiros Law, a large hospital building, a very big business section, CVS on one side, Walgreen on the other. I stopped at a Dunkin' Donuts inside a gas station convenience store but there was no place to sit so I moved on. The Kankakee Courthouse.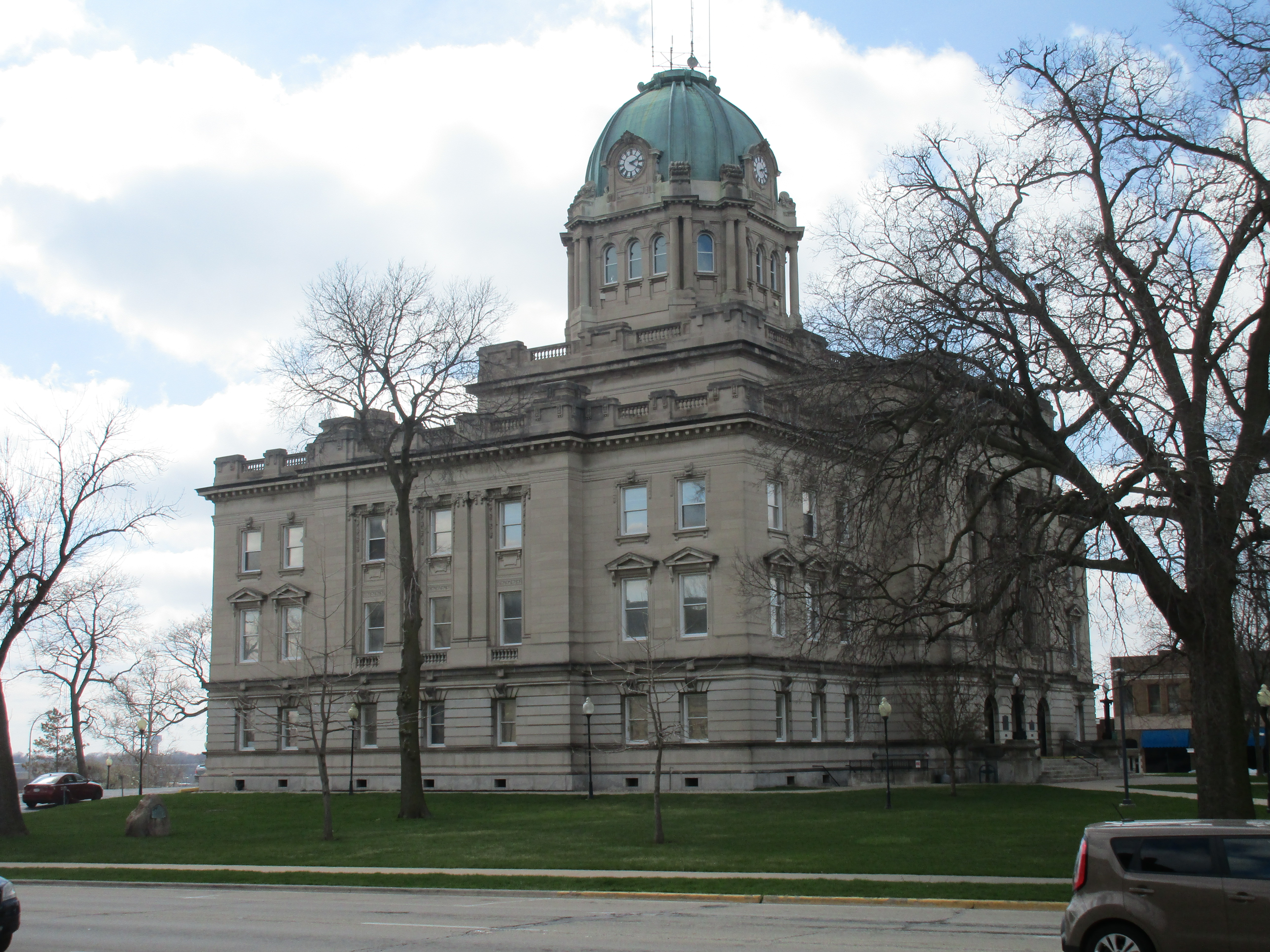 Out in the country again at 2:35, past an old country home, small, 2-stories with a third-story under the eaves, had been there a while, brown stubble on either side of the road which goes straight, more cloud than blue.
Welcome to Momence, An Old Border Town, Est 1834. Over the Kankakee River and an island, Firehouse No. 28 Cafe, Yanni's Restaurant. Got lost and had to ask directions at the post office, back over the two bridges and leaving Illinois 17 for Illinois 114. Mostly nice one-story houses as I left Momence, some two-story houses with third-story gables. Not as much farmland, woods, a string of suburban style houses not very close to each other, some trailer homes on the other side of the woods.
Friday, March 25
In 1967, Nancy returned to DC.
The Illinois line to Remington, Indiana

Back into farmland and onto Indiana 10 at 3:04 with a hawk soaring overhead. Once again woods and small suburban house, 4 or 5 one-story brick ranch homes, still flat, no matter how you look at it.
I-65 south at 3:20, temp 48. Off at US 24 at 3:48, into the Sunset Inn in Remington, Indiana, just off I-65. Looked like a bit of a dump from the outside but quite nice inside. Temp 44, odometer 128162. Grilled cheese and soup at the Iron Skillet at the truck stop next door and we're almost into Eastern Standard Time.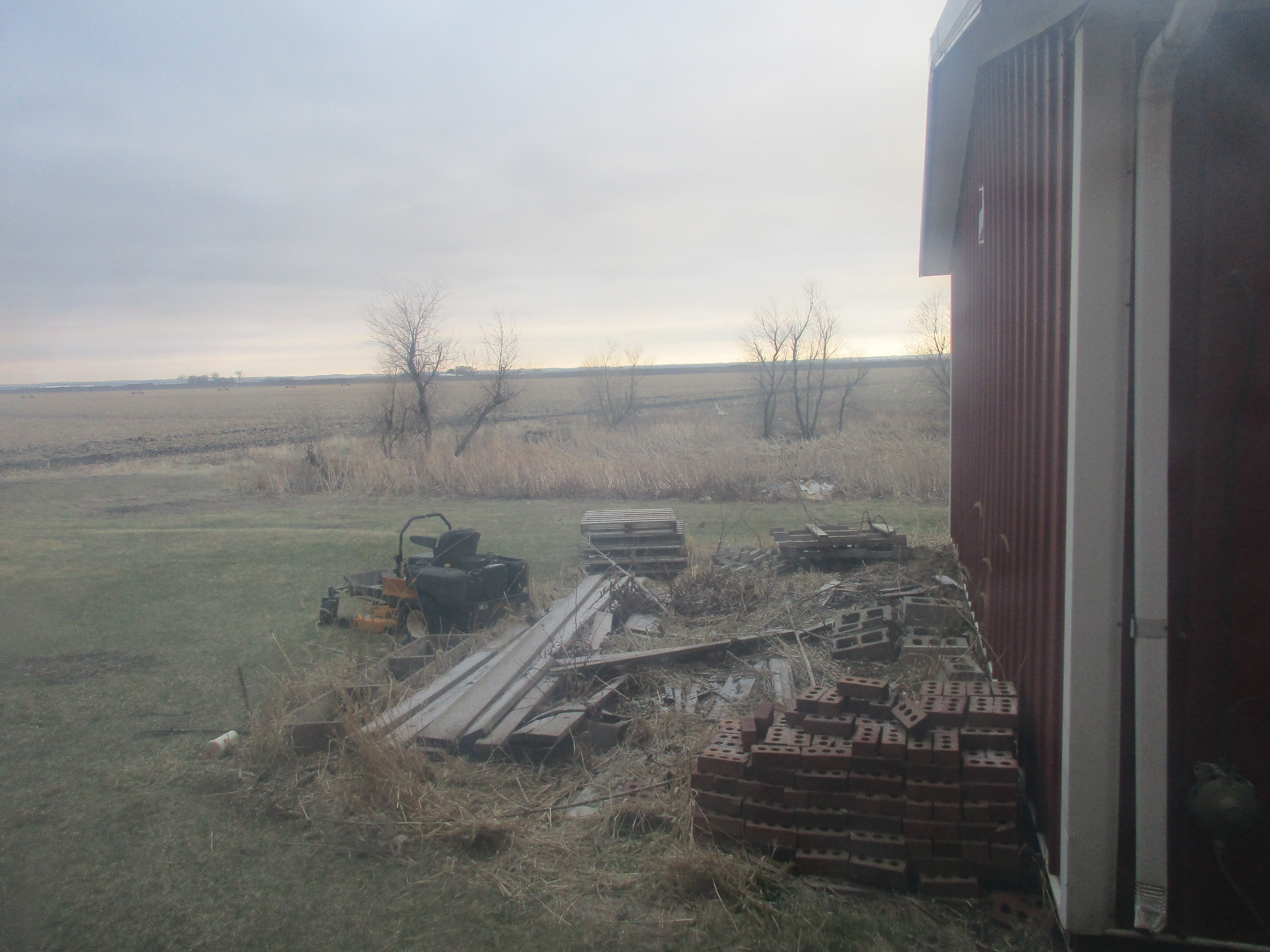 Remington, Indiana

Saturday, March 26
1973: At Mass Transit there was a slight interchange with Martha Ann but not much.
Remington, Indiana to Ohio state line

On to US 24 east at 10:03 EST, temp 38, odometer 128163, a clear blue sky, the sun in my eyes, all signs completely unreadable.
Flat country of course, road straight ahead, plowed fields to my left, some kind of industrial complex way off, what looks like a cement plant off to my right, closer to the road, as I reach Wolcott, small houses, a nice old squarish mansion with white gingerbread and a widow's walk on top. Brass Buckle Bar & Grill, a two-track railroad, a church with a very thin spire (Wolcott United Methodist), a bunch of two-story homes, mostly white, a light beige brown, flags flying in front of some of them.
The town of Reynolds at 10:20, temp up to 40, a white church (Baptist?) with a squared off steeple in front, just a one-track railroad, the USA Family Restaurant, a bunch of simple houses, some two-story, green, pale yellow, white.
The town of Monticello at 10:21. Over a fairly large river, no name, and under a railroad bridge. Naked trees and back into farmland. A couple of horses grazing outside a small town, just a handful of houses, a bump in the road. Burnettsville at 10:44, another bump in the road. In rolling country at 10:52, a lot of woodland, a little pond, sun still in my eyes. US 35 joins US 24 at Logansport then over the Wabash River at 10:57, a divided highway with a median strip, then 35 leaves us at 11:04.
Back into flat country again, on and on endlessly, the sun glaring and bright, then back into rolling country and curving highway, a few scattered cirrus, washed out blue to the south, a brighter blue to the north.
Onto US 224 at 11:49, straight into Huntington. A Catholic church with a rounded dome with a tinier rounded dome on top of that. In the center of Huntington, a building that takes up about a city block, also with a dome and a smaller dome, a clock, columns, 4 stories.
12:37, more of the same, flat empty country, another small town, houses on the left side of the road, brown fields of stubble, blue sky with cirrus, farmhouses and farm buildings, silos and sheds, grain storage containers, some farmhouses close to the road, some some distance away, another no-name town with a ball field, ranch houses, 2-story houses, one a pale yellow, a brick building that looks like it might have been a small factory.
Decatur at 12:43, joining US 33 and US 27, out of Decatur at 12:50, into Ohio at 12:58.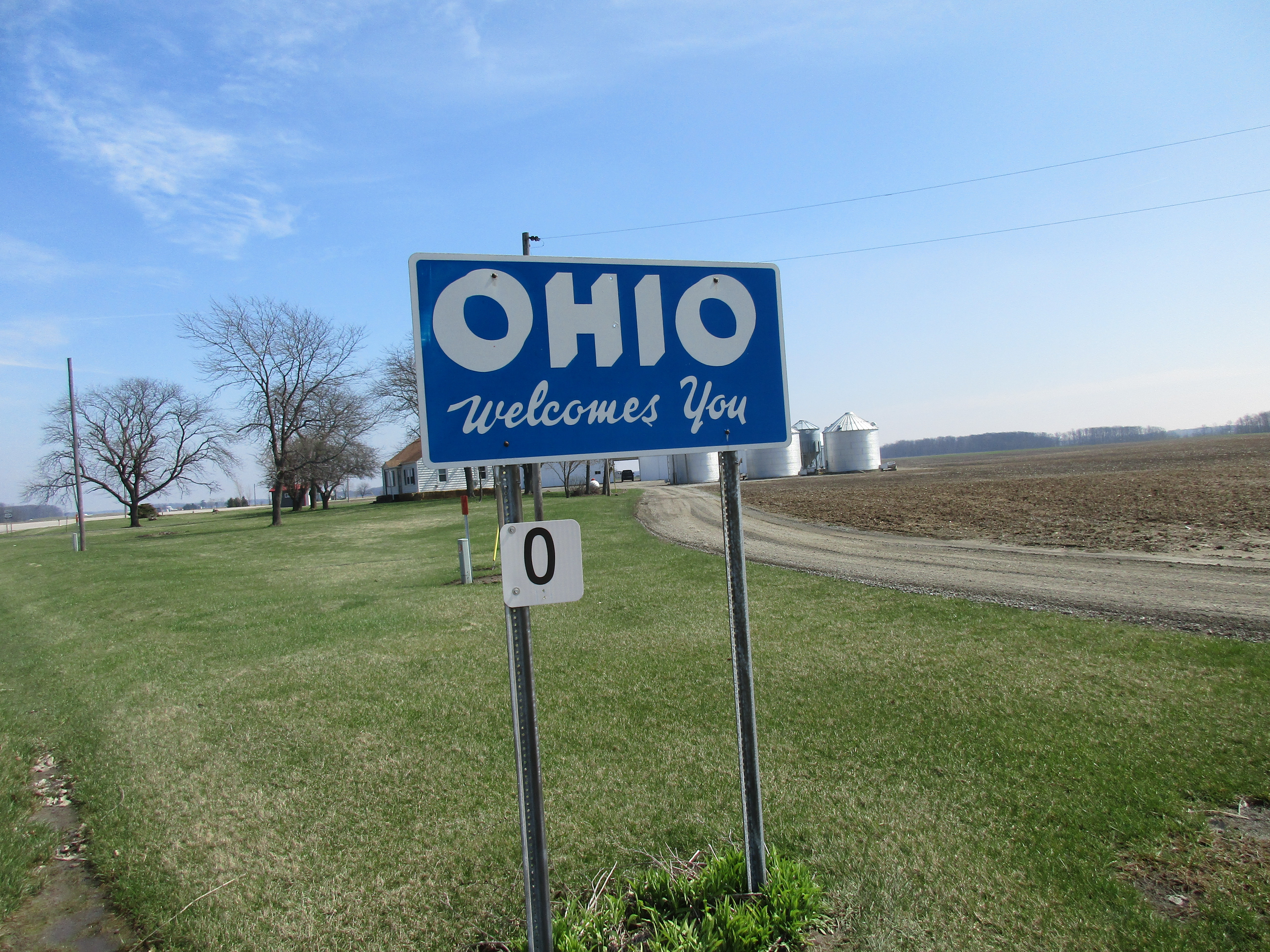 Saturday, March 26
1986: This is the last night I will spend at 1005 S. Kenwood. I have found a home in Baltimore.
Indiana state line to Tiffin, Ohio

Into Ohio at 12:58 on US 224, temp 47. Western Ohio is just a flat as Indiana. Joining US 30 at 1:13, back onto a divided highway. 15-20 power windmills turning slowly. Ottoville at 1:39, established 1845, Millie's, a double-spired church (probably Catholic), large grain silos towering over 3 two-story houses with gabled roofs. Kalida at 1:49, first Putnam County Seat. A large group of green John Deere farm machine, small tractors, big tractors, combines, 4 metal round grain containers and 4 round brown towers. Welcome to Glendorf. $22 worth of $1.959 gas at a Valero. Ottawa at 2:08, a freight train crossing the road in the middle of Ottawa, a lot of brick buildings, mostly 2-story, some gingerbread, a residential section with gabled houses, light beige, light green, light blue, white of course, rain, a church.
Shrimp & corn chowder at Tony's in Finlay, Ohio, at 3:22. Temp up to 50, the road going through a long business area, shopping malls and so on, into the town of Marion at 3:47 without any change. Enon Valley Presbyterian Church, small and simple with a small graveyard alongside it. West Independence, Hopewell, pines, a lot of shamelessly naked deciduous trees, yellow fields, brown fields, green fields, take your choice. Days Inn at Tiffin Ohio at 4:20, temp 51, odometer 128393, expensive in the middle of nowhere, no refrigerator but otherwise good. A beef dip at Arby's.

Sunday, March 27
1997: Out to Beltsville to look at the comet. Long tail in the binoculars. Getting to be quite a sight.
Tiffin, Ohio to the Pennsylvania state line

Up a little before 9, a clear blue sky again, coffee, apple juice, bagel and cream cheese, one slice of buttered toast, cereal, yogurt at the motel. Blue jays, robins, and redwings—I'm back in the east.
Back on US 224 at 10:00, temp 49, odometer 128398. Flat country still, road going straight for a while, brown and green fields, lots of naked trees, sun in my eyes. "Hey! Pole Barns!" (whatever that means). Nice old gray weathered barn, like something in an Andrew Wyeth painting, one that's beginning to fall apart, an old style windmill standing silent.
Into Attica at 10:24, temp 56. A long line of two-storied houses with gabled roofs and over a double railroad track. Another weathered barn, gray and unpainted, in good shape, regular silos, more metal grain storage silos, the Bethel Cemetery, nice old house, two stories with a third floor under the eves.
Into the town of Willard at 10:34 and out 2 minutes later. The town of New Haven, Ohio, at 10:39. Not quite as large as New Haven, Connecticut. Into rolling country at 10:51, a church with a very squat steeple, a couple of people in front of it, lots of rolled hay covered with plastic sheets. Into Nova at 11:03, the only business is Callahan's Corner Store, mostly 2-storied houses, old New England houses here in the Midwest. The town of Sullivan, scattered houses, a church, a little business section off to my left, the town of Homerville, a bunch of houses and a gas station at the intersection with Ohio 301, temp up to 60. Creek alongside the road to my right for a while, railroad off to my left, pines and naked deciduous trees; at Medina, US 224 east joins US 42 north briefly and becomes a divided highway with the standard median strip, speed limit 60. Home of the Cloverleaf Colts (look it up on the internet). I-76 at 11:28, the city limits of Akron at 11:46, Tallmadge and Kent State at 11:58. On to I-80 at 12:34, temp 68, past Ashtabula. Gently rolling country, gently curving road, at least we're out of flat country (I think). Into Pennsylvania.
---